The fortress of Giomici, dating back to the 11th Century, is located just in the middle of Umbria, the green heart of Italy, between Gubbio and Assisi, at 35 Km. north-east from Perugia.
Completely restructured, it dominates the beautiful country sight from its strategic spot high in a hilltop in the middle of woods and green pastures, at 580 m. above sea level.

The first written document about the Giomici castle dates back to the year 1160 and consists of an official Diploma by the famous emperor Federico Barbarossa, stating the conquest of the castle of "Giomisco" in favour of the city-state of Assisi.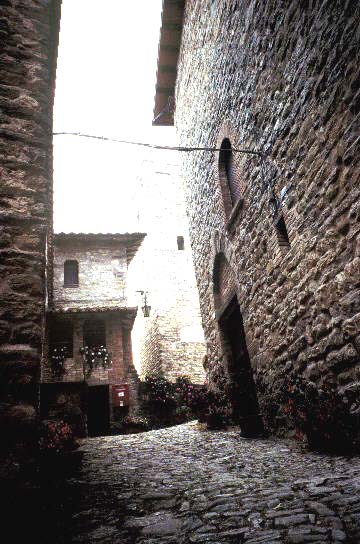 During the Middle Ages, Giomici has indeed often been a victim of bloody wars between the mighty city-states of Assisi, Gubbio and Perugia. The Giomici castle as a protagonist of scenes of battles between Gubbio and Perugia, Montefeltro and Perugia and Federico Barbarossa and Gubbio, has seen famous persons, like Petruccio de Ciuccio de Villamaiana who, in the 14th Century, fell to ruin with the tower under attack of the enemies. And later, in the 19th Century, the bandit Cinicchia, who used to sleep in the cellars, become famous as "the Robin Hood of Umbria", because he stole the rich to give the poor.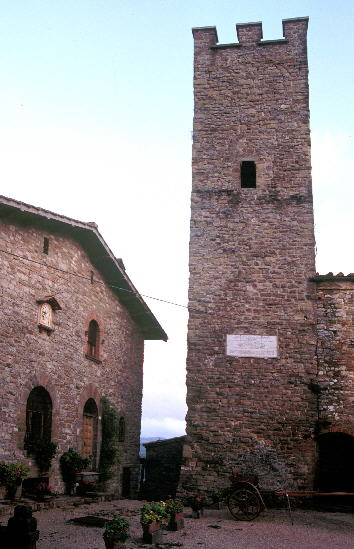 The estate of Giomici came into the hands of the Vagni Family in 1650, and it has been the Vagniís property since then. They restructured the castle and the near farmhouses without changing the historic and architectonic characteristics; by merit of the same family the tower of Petruccio de Ciuccio has been restored in 1944. The little church (built in 1350), the palace and the boundary walls surround the tower, creating a wonderful frame.

On the estate, covering an area of 160 hectares covered with woods and green pastures, there is a mixed farm for agriculture (forage, vineyards and olive-groves) and cattle breeding (cows and horses).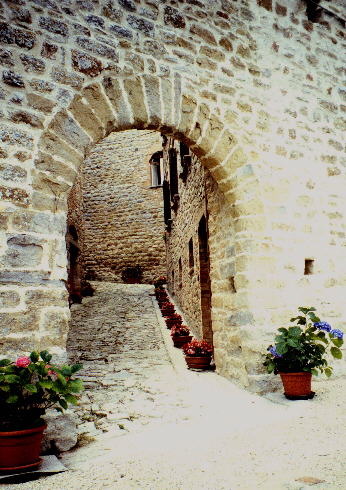 All guests of Giomici can freely roam around the estate, enter the stables or the meadows where cows and horses are gazing, go rooting for truffles (from August to October) with the help of our specially trained dog, help with the grape harvest (2nd week of October) or the olive harvest (December), go horseback-riding through the fields, or mountainbiking to Assisi, or walk the "Sentiero della Pace" (Path of Peace) which is to be realised between Assisi and Gubbio, passing near the Giomici-estate. Since Giomici is in the middle of Umbria, itís an excellent exit road to famous and beautiful towns like Gubbio, Assisi, Perugia, Spoleto, Todi, Orvieto, etc. and even to big cities like Roma, Firenze, Pisa, etc. which can be easily reached also by train.